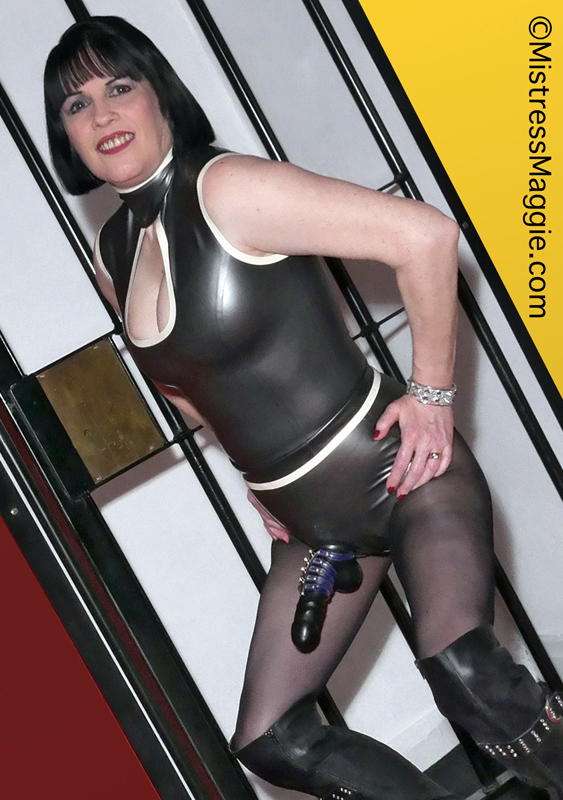 I am the most established Dominatrix in the Preston area. I have over eighteen years of professional BDSM experience and a further five years as an active Mistress on the UK fetish club circuit. I am a serious professional who knows what makes you tick. My aim is to give you a great experience, a session tailored to meet your fantasies and provide options to try new things and push your limits. This enables you to come along and just do what you love doing without needing a psychological reason for your perverted habits.
My sessions are conducted on a one-to-one basis, indoors in my well equipped and well maintained chambers. I am in an ideal location if you are travelling through Lancashire and the North West, my chambers are within easy reach of Preston town centre, the M6 and M65 motorways and I have parking spaces adjacent to my property.
At over 50 I'd say I'm a mature Mistress, but you may not guess it by looking at me – even from close up. I have a well proportioned and flexible figure that fits beautifully into a vast assortment of garments, I keep myself trim with regular exercise and always look special for my work.
Apart from my expertise as a professional Mistress I have a creative flair and like to work with fabrics, I love to make clothes in fetish materials and love to wear them too. I enjoy parks, gardens and gardening, discovering the UK, light reading, rock music and the blues. I am practical, pragmatic and easy going, I am a responsible homemaker, proud to take care of my own cooking and cleaning and as much as possible keeping life simple.
If you are looking for a skilled Mistress to fulfil your fantasies give me a call, I will be happy to introduce you to my world of BDSM, I am very experienced, well reviewed, professional, very discreet and always welcome new customers.