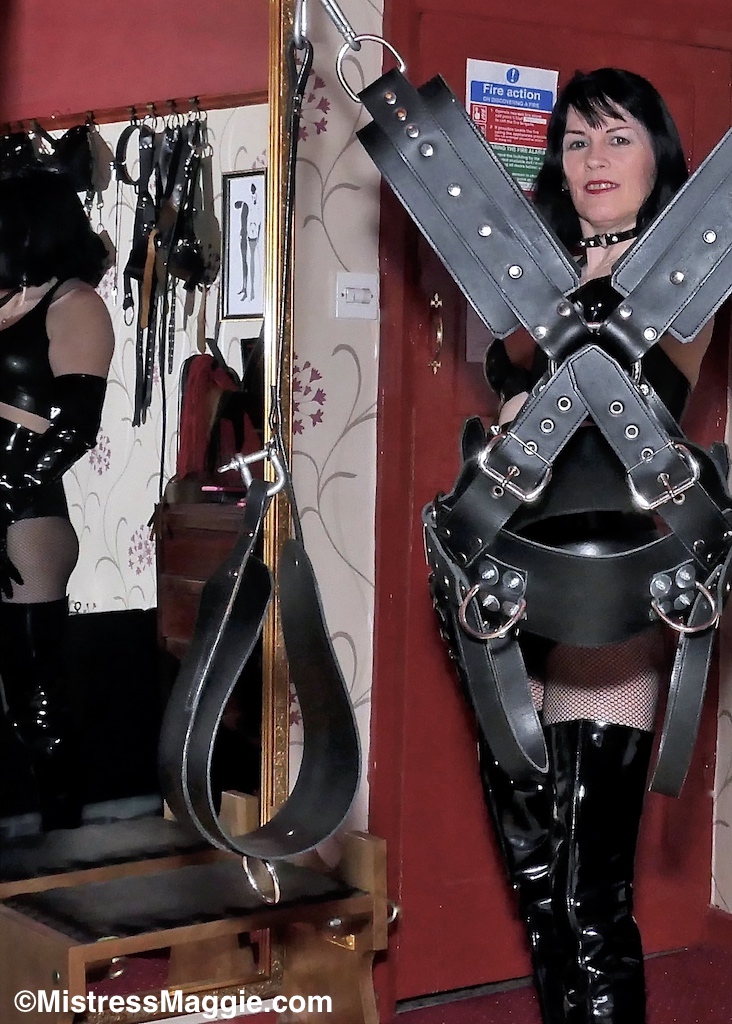 Hi Mistress Maggie here, keeping you up to date with improvements in my Preston Chambers.
A super heavy leather suspension harness has now been added to my suspension kit. This latest equipment upgrade makes it possible to suspend slaves vertically or horizontally for S&M action.
I always have a go with any new equipment myself and must admit that I found hanging around in the leather harness quite therapeutic. It swings gently, rotates 360 degrees and can restrain gents up to size XL.
My site has been appropriately updated to provide more information and a more detailed photo of the harness in situ, which can be viewed here –
http://www.mistressmaggie.com/galleries/mistress-maggie-room-b09.html
If bondage is your thing, I'd like to remind you that bondage is my speciality and plays a part in the majority of my sessions, whilst most aspects of traditional BDSM are also on the menu as standard.
My bondage collection extends to bodybags in different mediums, black leather restraints including headgear, harnesses, straitjacket and posture collars. Clingfilm wrap, scarves, ironware, spreader bars, rope and heavy chain are also available to keep you secure in my company.
Please visit my website or call during my advertised hours if you'd like to enquire further.
http://www.mistressmaggie.com
tel:07785546682 mon-fri 12noon til 10pm