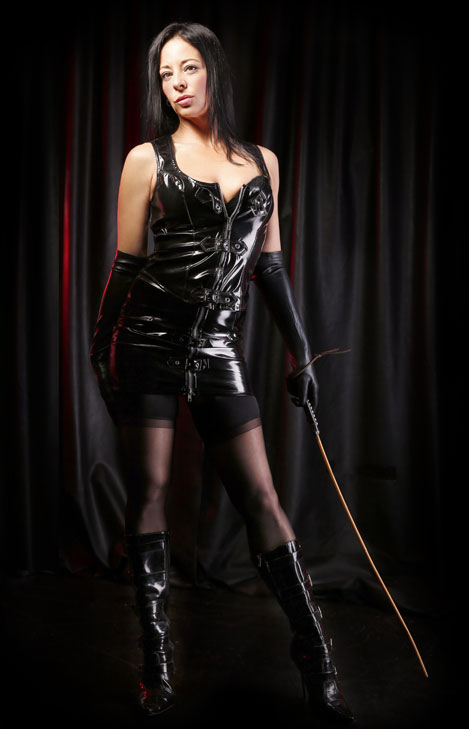 I am a highly experienced Mistress, very seductive, captivating but always COMPLETELY in control.  I have been mastering the art of domination for the past fifteen years and regard myself as the ultimate Mistress.
My mind is razor sharp, I am very intuitive and always one step ahead of my slaves.  I challenge ANY slave not to fully submit to me!
I take novice, inexperienced men, and with my guidance and expertise, create perfect, fully trained submissive slaves.  You will belong to me, I will own you and give you a place in that special part of your life as one of my belongings.
I have encountered many slaves in my time who find it difficult to totally give in to their Mistress.  Not me, however! I will break you down, demand and receive your respect and submission, and I will enjoy every second of my dominance!
Enjoyment is at the heart of all I do – I enjoy you, you enjoy me and then you become addicted to me.  This is the start of our beautiful relationship,although I do insist on some added 'persuasion' to ensure you continue to know your place!
As you will already have guessed, domination is my thing, but to categorize myself would be a crime.  I am what you see – I love to be a glamorous secretary or sexy bitch and release my sadistic nature on an excitable, willing partner, ready and desperate to be used for my pleasure.
Capturing your imagination is important to me, getting inside your mind and leaving a memory you will never forget is my greatest thrill of all.
My touch can be that of a seductive Goddess, leaving you weak and helpless under my grip.  My body was made to be worshipped, beauty that will make you do anything to please me – and, of course, I will use this against you to my advantage!
As you can see, I can blow my own trumpet all day long!
The REAL test, however, is when are you going to find out for yourself?