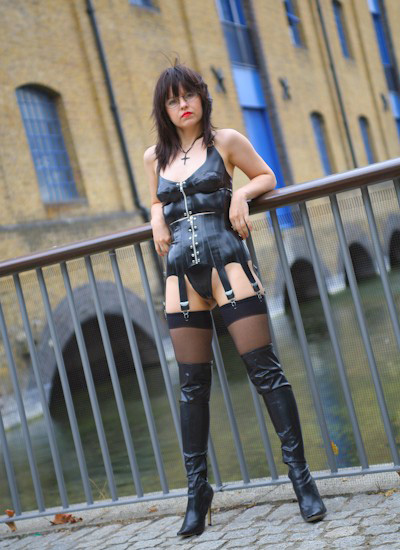 I'm an accomplished Mistress from Russia with over ten years experience as a professional in London. I enjoy dealing with submissives and slaves of all genders and persuasions whilst the activities that please me range from the seductive and sensual to the more extreme. I have my own extensively equipped chambers which are used solely by me and conveniently located in a discreet area of Central Croydon, South London.
For those who don't know, Lubyanka was the infamous KGB headquarters in Moscow where enemies of the Soviet state were interrogated and tortured.
I remember, when growing up back home in Soviet Russia, hearing of how female KGB officers were often assigned to control male captives and to extract confessions from them by utilising their exclusive "charms."
Even at an early age such a notion aroused me and whilst many of my contemporaries dreamt of becoming engineers, doctors or cosmonauts my ambition was to join the KGB. Not because I am a sadist but because the thought of having males under my control really excited me.
Of course, fate played its hand, in more ways than one, and some years ago I moved to London to complete my post-graduate studies. I found to my delight that there are so many submissives here who are willing and able to cater to my needs and pamper my desires.
I have spent the past twelve years on a journey of exploration to try to establish exactly what it is I relish so much from my exploitation of submissives. Is it a physical or psychological pleasure I asked myself? Well, it seems it's actually both. There is nothing more I enjoy than for a person to turn over his or her body and mind to me, to submit fully to my control.
I find such pleasure so intense that ten years ago I decided to embrace capitalism by combining business with pleasure and becoming a professional dominatrix. Now I play for real… and get to wear a KGB uniform!
Although I am stern and demanding I also have a lighter, more friendly and caring side to my personality. I have found that, in certain situations, humour and compassion can in fact strengthen the bond and enhance the level of pleasure and enjoyment shared between a Mistress and her slave.
I am available for audiences and private training sessions at my extensively equipped chambers in a discreet area of Central Croydon, close to East & West Croydon stations.
My well-equipped chambers are spacious, spotlessly clean and smoke-free. High quality, professional equipment, most of which is from Fetters includes full suspension, whipping bench, bondage chair, confinement cage, set of stocks, rotating bondage frame, facesitting and watersports boxes, as well as a vast multitude of high-quality, deliciously devious toys and equipment for my pleasure and amusement and your pain and suffering! A domestic setting is also available.
My chambers are used solely by me and not shared with others. Your privacy is always respected, you will never meet anybody except me and the entrance is discreet. Being exclusive to me ensures my high standards of hygiene and cleanliness are not compromised.
EAST CROYDON STATION, which is a ten minute walk from my chambers, is just 15 minutes by frequent train service from Victoria or London Bridge stations in central London, 20 minutes from Gatwick Airport and has good connections with stations all over the South. WEST CROYDON STATION is also 10 mins walk and is served by the West London tube line to Docklands, East and North London. If driving, my chambers are just 20 minutes from Junctions 4 or 7 of the M25 motorway, whilst Heathrow Airport is one hour away. Secure parking is available nearby.
A first meeting will commence with an interview (not part of the session) during which we will establish precisely how you will serve and please me. This is an opportunity to ensure that BOTH of us will derive maximum pleasure and satisfaction from your servitude. This will hopefully inspire you to surrender yourself to me time and time again.
Sessions will last for as long as we both agree. Personally, I prefer longer sessions and one hour will be the minimum I require to ensure that you satisfy