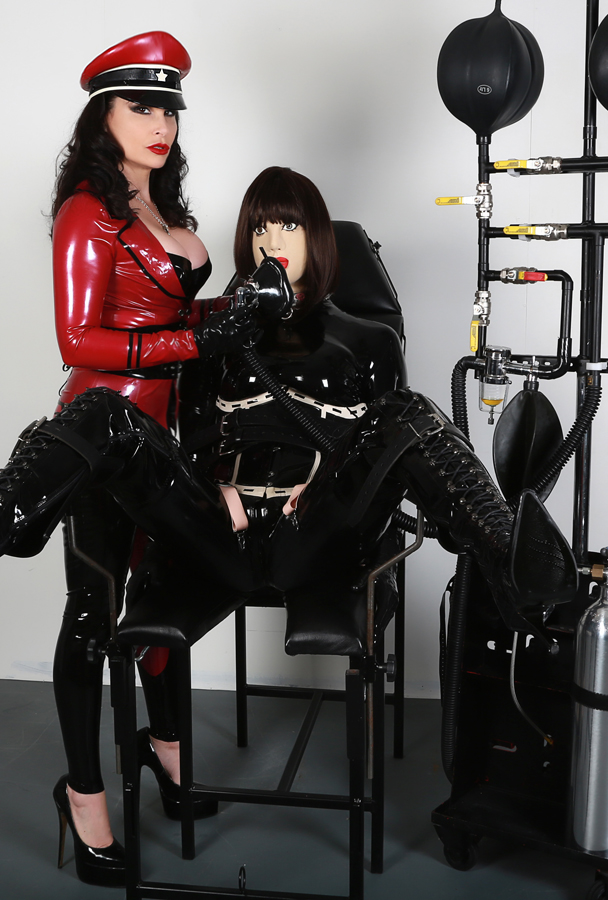 I am Miss Velour, a Dominant Lady with a fixation for rubber.
I own one of the best equipped Rubber BDSM Studios in the UK. It has been filmed
by the some of the most celebrated fetish websites in the world; Serious Bondage,
The English Mansion, The Rubbersisters and Fetish Lisa to name but a few.
I don't follow stereotypes, nor do I indulge in all the Mistress' trite cliches; I have a
totally individual and tremendously erotically charged style of Domination, lavished
by my natural Italian sensuality.
I delight in the dimension of Rubber Play and Bondage as, like no other, They open
the gates of the metaphysical into the most bizarre journey of sexuality. With all the
infinite possibilities that latex lends itself to (Inflatable, deflatables and the
modification of the human form) combined with ever-growing sexual technology,
there are virtually no boundaries to the erotic inventiveness of Rubber and Bondage
games.
As a congenital hedonist and a sexual technophile, I consistently aim to expand the
collection of the tools necessary to my artistry. I absolutely revel in the empathy I
feel with my rubber submissives and playthings when we're both in that special place,
where nothing matters, apart from the delicious highs of rubber bliss.
I specialise in:
• Rubber Play
• Bondage – in all its interwoven different kinds
• Medical Breath Play – Featuring the State of the Art of equipment
• Suspension
• Inverse Suspension
• Anal Play – from beginners to extreme and Fisting
• Milking (Serious Milker Machine)
• Puppy Training
• Maid Training
• Dollification
• Feminisation
• Electric Play
• Heavy Rubber Play
Just visit my website to unleash your kinky mind over the infinite possibilities my imagination and my robustly equipped studio offer.